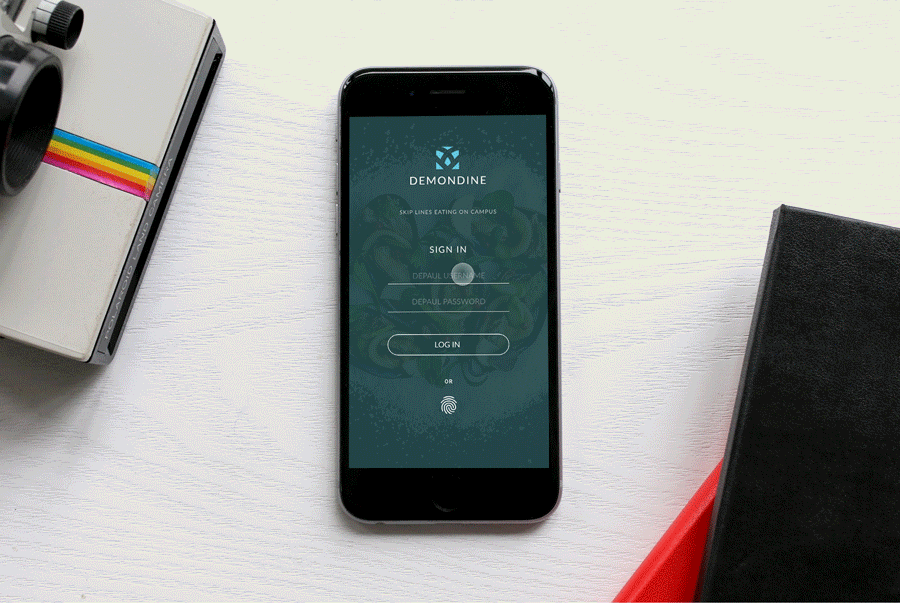 To design an app that would be helpful to DePaul students with [literally] anything. To conduct collaborative research utilizing interviewing skills, affinity clustering method of data interpretation, and user testing. To create both low-fidelity (paper), and high-fidelity (Adobe XD) prototypes for user testing. The goal of our design was to help DePaul students who use campus dining to make their experience smoother and more satisfying. The solution would entail creating a mobile application that captures the experience of ordering in person in a way that is much more efficient for both the customer and the vendor. Designing a solution for students through a mobile app would also entail creating a back-end solution for the people preparing the food in order to create a seamless customer service experience. We wanted to understand the way students interacted with on-campus dining and how it was integrated into their daily routines at DePaul.
By interviewing 20 DePaul students with two of my classmates, it was clear that students avoid eating on campus because of constant long lines (especially between classes). Students also reported that they want to know nutrition facts of their meals, be able to customize their orders, and know the estimated wait time in order to be everywhere on time.
To create a food ordering app specifically for DePaul students. It will include all food stations in both Loop and Lincoln Park campuses, estimated wait time for each meal and drink, nutrition facts, and possibility to modify the ingredients and request any additional changes. Students will be able to order while commuting from one campus to another, between their classes. Payment methods will include Demon Express Account and credit/debit card.
Adobe XD & Sketch, Adobe Photoshop, Adobe Illustrator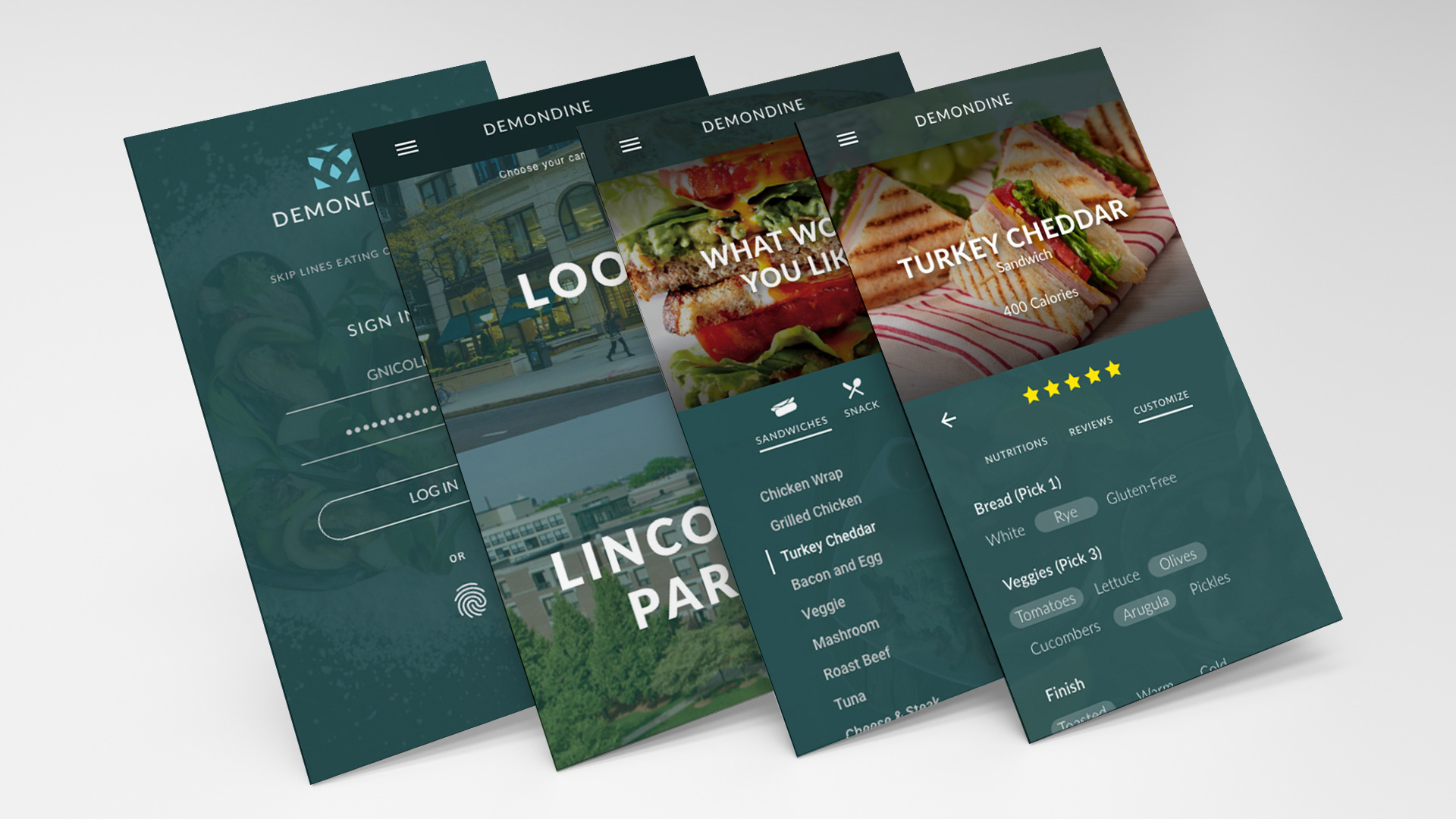 Brainstorm & Ideation Process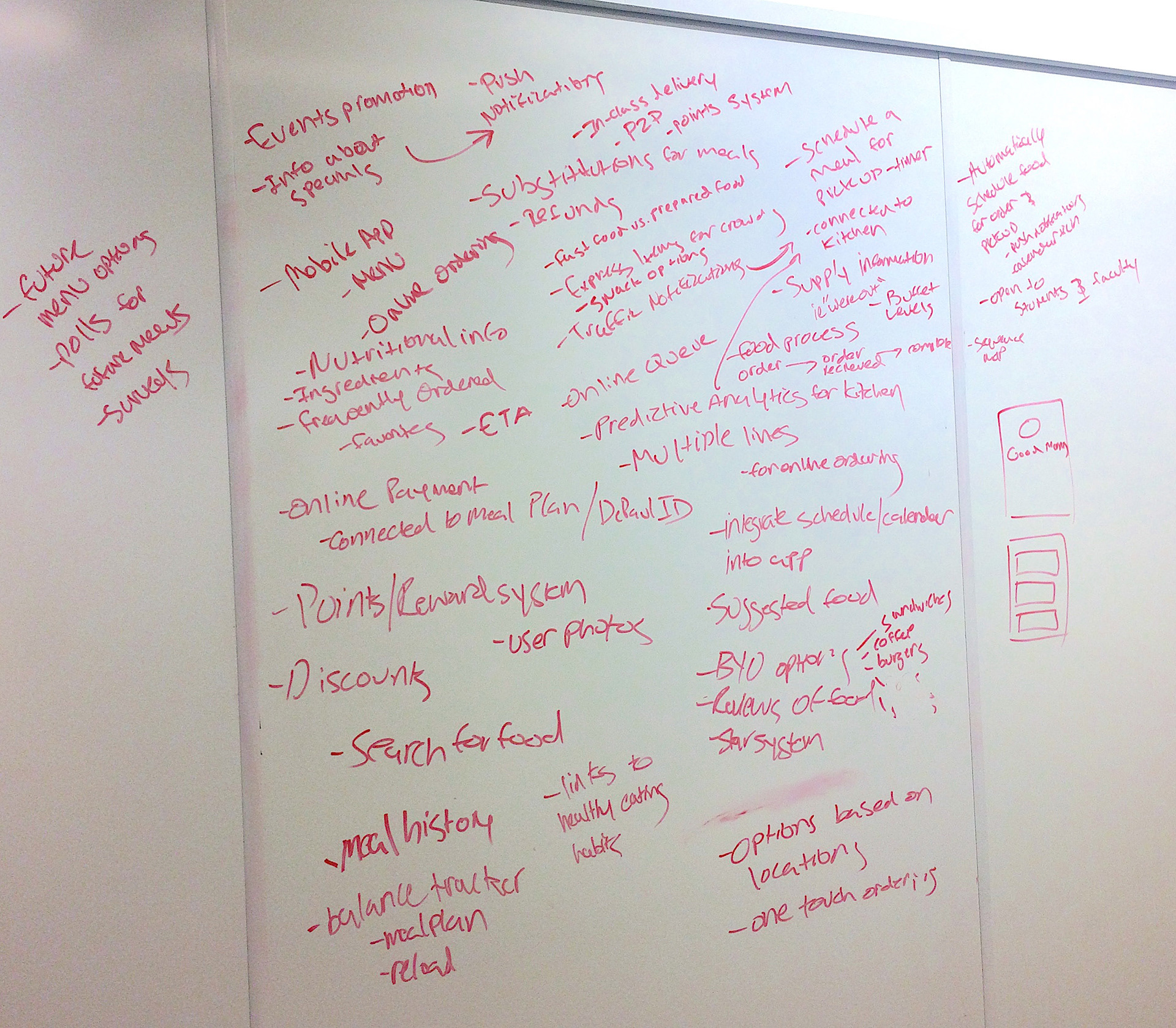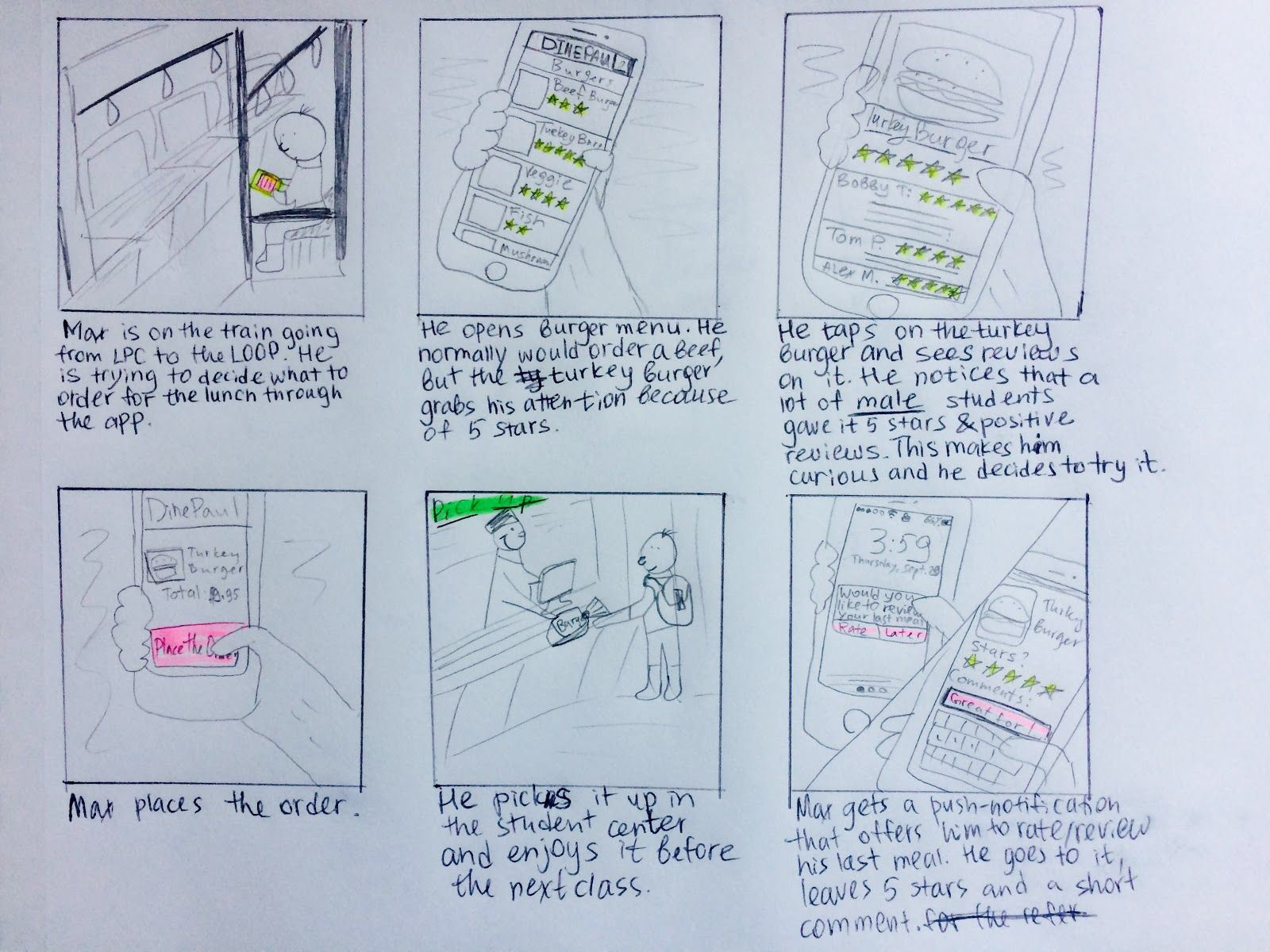 We came up with the name DEMONDINE, because Demon (DIBS–Demon In a Blue Shirt) is DePaul's mascot.
Two Ds rotated and layered on each other create a shape that reminds a heart. A negative space becomes positive, which links like a puzzle, which represents multiple spots you can order from. Square shape is also good for the app to appear on the phone screen.

We used a combination of individual interviews and observations to gather data about the current state of ordering food on campus. We used this set of questions:
What do you study at DePaul?
What year are you currently?
How often do you eat on campus? Why?
How many times a day will you visit a DePaul on-campus meal center? Why?
Tell me about your last customer service experience of dining on campus?
Do you tend to eat on campus at a specific time (i.e. right before class/after class/when you're done with the day?)
Do crowds at on-campus dining centers influence your decision to eat/not eat? How?
How much time in between classes do you have to eat on an average day?
What items do you get on the menu? Usually the same item each time or something different?
Have you ever bought an item to eat in class? Reason?
Do you have any thoughts or suggestions that frequently come to your mind about improving the service of on-campus dining? Why?
Between our group, we interviewed people that vary greatly in their usage of on-campus dining. Specifically Freshmen, Ex Resident Assistants and upperclassmen, providing varying perspectives and usage scenarios.
In order to organize our data, we used affinity clustering method, which helped us to understand people's major and minor problems/concerns and behaviors. With a help of this method we were able to develop insights from our research. Then, started thinking about possible solutions by brainstorming.
Affinity diagrams helped us to organize our data visually. We labeled each of the groups that we made and started creating insights.